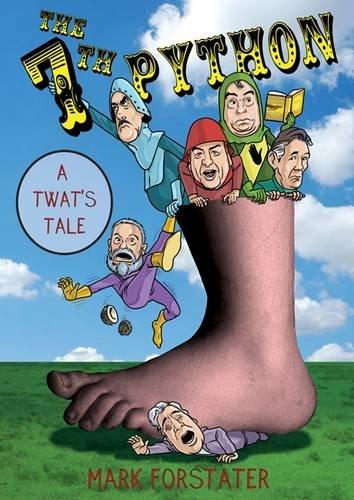 The 7th Python (A Twat's Tale) by Mark Forstater
THE EPIC STORY OF A FILM PRODUCER,BRITAIN'S BEST-LOVED COMEDY TROUPE, A CLASSIC COMEDY, AND HOW 40 YEARS ON THEY CLASHED IN A TRAGI COMEDY OF BONE-BREAKING GREED, AND HEART-BREAKING DESPAIR.
Monty Python and the Holy Grail is a comedy classic. Consistently voted in the top ten of all comedy films, it is the most profitable independent film ever made in the UK and has achieved worldwide box office success. Forty years on it is still screened.  
The young man who produced the film was Mark Forstater, an American from Philadelphia who shared an apartment in New York with Terry Gilliam, before coming to England in the mid-Sixties to study at film school. Forstater liked the country so much he decided to stay and has been living and working here ever since.
The 7th Python (A Twat's Tale) tells the story of the ups and downs in the making of Monty Python and the Holy Grail. It lifts the visor off the sometimes brilliantly creative, sometimes fractious relationships between the Pythons. They were comedy icons but they were also, cue cliché, human with all too human frailties, which Forstater describes sans cliché. 
Everything was fine, rosy and profitable until Eric Idle came up with the idea for Spamalot, a stage musical based on the film. Spamalot became a smash hit. As producer of the original film, Forstater was entitled to a percentage of the profits from the film and its spin-offs. But then his share of the royalties was slashed. Did anyone consult the 'twat'? No, though for 30 years and more, Forstater had received his agreed share. 
Forstater tried to talk to the Pythons; he wrote to them; he tried to negotiate. But the mighty Python was stubborn as a goat. (Note to editors: mixed metaphors intentional.) So Forstater had to go to law which led to Eric Idle dubbing him a 'twat'.  
Forstater tells of his trials and tribulations before, during and after the trial.  For seven long years, he tried to get the Pythons and their management to see reason, and for seven long years, he failed. 
The final section of the book offers a lesson for those thinking of going to law. After endless writs, witness statements, witless statements, etc., the Pythons appear in court. The judge says the original agreement could have been drafted better. It ends moderately happily for Forstater – he wins – and very happily for the lawyers in that they all get their fees.
Forstater was sustained in this ordeal by his belief in the Tao. He is the author of The Spiritual Teachings of the Tao (Hodders), The Spiritual Teachings of Marcus Aurelius (Hodders) and with Rudolf Reder I Survived a Secret Nazi Extermination Camp (Psychology News). 
A must-read for Python fans and anyone interested in comedy – and human frailty.
Signed by the author